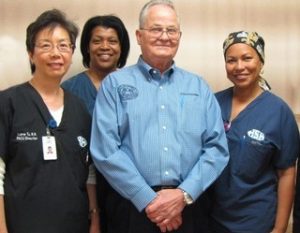 Humble Surgical Hospital is inspired by service. At all levels of our organization, our teams work actively to serve the community with a focus on health care and education and this passionate support continues to grow every year.
With this spirit, HSH formed the Humble Scholarship Foundation which is committed to providing scholarships to students in the Humble, Kingwood and Atascocita area. In May 2012, he foundation held its second annual essay competition that awards Humble scholarships to graduating high school seniors that are interested in the medical field, awarding scholarships to three students at an awards ceremony and building up capacity to provide on-going support and growth to its mission through its Golf Tournament and Awareness activities.
HSH, its staff and its physicians are also involved in other support activities including an annual participation in the Moses Lake Medical project in which our physicians travel to West Africa and provide needed services to patients in the region. Last year, three of our physicians, two staff members and a student were sponsored by the hospital to participate in serving over 3,000 patients in Nigeria with one week of service and support and to train other medical staff to continue in this care in the process. This enriching experience, our support for the mission of Moses Lake and similar programs are in our DNA and are a tonic to our team.
These activities, our close relationship with the City of Humble and its organizational network, and other HSH sponsorships and engagements shall be showcased on this page to share with you our mission to being a responsible partner, not only through our sponsorships and contributions, but through our action and expertise.